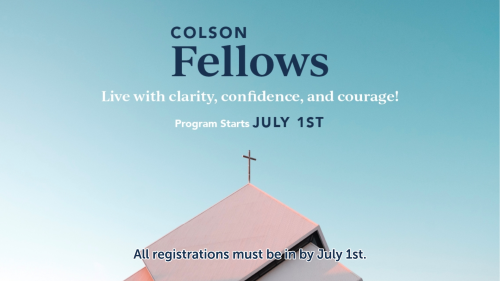 Colson Fellows: Colson Center
Join us, in August, as we drive into a class from the Colson Center. Geared towards deeper understanding of the Bible and how you can use your knowledge to impact the world around you, this class has the potential to deeply impactful.
Registration has been extended to July first 1 to give more people the chance to join before the July 1start date. The learning platform will launch in August and all students are expected to complete the class by May of 2023. Full commitment to the curriculum is expected and students will work an average of 6-8 hours a week. All in person classes will be held at New Hope.
Click HERE for a short information video
Contact Ed Keating and Ruth Vollrath for more details. Email or call 920 437-2005
Click the link below to register:
colsonfellows.org/affiliate-registration
Click HERE to view the brochure and to get more information
Once a Colson Fellow, Always a Colson Fellow
In addition you are invited to join other New Hope attenders at the Wilberforce Weekend in Orlando for May 13-15. The event is open to all who are interested and you do not need to be a Colson Fellow to attend.
Click HERE for more information
Click the button below for online payment options.
August 2022

»

Sunday
Monday
Tuesday
Wednesday
Thursday
Friday
Saturday
1
2
3
4
5
6
7
8
9
10
11
12
13
14
15
16
17
18
19
20
21
22
23
24
25
26
27
28
29
30
31